Dear Friend and Prospective Student,
Congratulations on deciding to get more information about the exciting career of forensic document examination. This is your first step to earning hundreds of dollars per hour and making a difference in the lives of forgery victims worldwide.
The next class starts soon, so you should apply early and get started using the online self-paced training modules.
This page contains some very special items. Please set aside some time to review each item, video, or chart, so you can be well-informed about all we have to offer and make an intelligent well-informed decision about joining our school.
Then, once you have reviewed the items on these pages, call our office or fax in your handwritten application (found on the enrollment page).
We recommend you view all SIX videos on this page, so you can be completely informed. The first three are less than 10 minutes in length (combined) and the second three include a detailed online "tour" of the distance learning online curriculum.
Then proceed to the audio files, which includes the recent one hour tele-class preview call. This is very recent and current introduction to the school.
First class people and
first class training

. Bart and Beth were always were there to support me and guide me to launch my document exam business.
I deeply appreciate their unyielding support to me and mynew career. I highly recommend their training."
Paul Lockyer, Australia

Three Three minute videos introducing Beth Chrisman and Bart Baggett:
School Tour and Official Overview of Program:
Video Part One SWF / Flash File.

If you cannot see the above Flash Video,
click here for the Part 1 in MOV format.

Video Part Two & Three (Online Campus Tour)
Once the above video is complete, click below to view part three
Listen to a 20 minute audio FAQ mp3 file that will answer many of your questions about the school and your new career of forensic document examination.
Listen to the one hour preview teleclass, recorded in September 2010 hosted by Beth Chrisman and Bart Baggett. Download both files here. 1 hour class. 30 minute bonus Q&A

The Program Overview (The six modules.) (new window opens)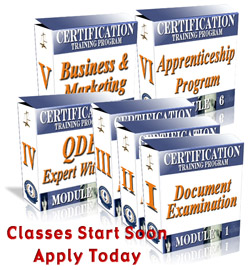 Three key downloadable PDF files which contain our School Brochure, Student Application, and the enrollment form which outlines the optional 24 month payment plan.
Links to a collection of videos filmed a recent conference where you can follow along and attempt to solve your first handwriting case... the Zodiac Killer. Plus, you can watch the interview as it appeared on television.