Program Overview

Handwriting University's
School of Forensic Document Examination
training, apprenticeship, and career development program
Finally, you can train to become a Forensic Document Examiner and Court-Qualified Expert Witness. Our new program will teach you the methods step-by-step to turn your new valuable skill into a lucrative full or part-time business.
Dear Friend,
After years of pleading and begging from our "handwriting analysis" students, we have assembled the country's only comprehensive A-Z forensic document examination training, apprenticeship, expert witness, and career building school.
An expert witness is often the key to winning or losing a case with hundreds of thousands of dollars on the line. Attorneys and victims of forgeries are lining up to pay. There is a shortage of qualified document examiners. Because of the ever-increasing demand, many in the industry charge $1,200 or more to evaluate a single document.
However, if you have ever attempted investigating how to become a forgery expert, you have found that training is very hard to come by.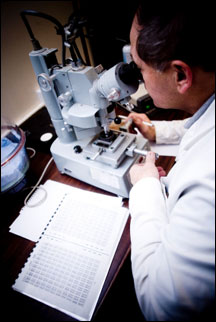 There is a shortage of of qualified document examiners in this country. When asked how they were trained... they have a very long list of conferences, books, lectures attended, and informal training from others in the field. Occasionally, you will find an x-FBI or CIA employee with actual governmet training using the most expensive government equipment. The truth is... 99% of the cases you will take won't need expensive equipment (carbon dating, ultra violet light, etc.) Most professional organizations publish that some form of an apprenticeship program is the most common and best way to train.
Until now, you could not receive training in this area with any consistency, credibility, and which included business planning.
Up until this moment, there has never been a formal institutional A-Z training course in forensic document examination that combines an apprenticeship training program, a home study course, and a career building coaching program.
What we have created is amazing.
Our school is the first of it's kind... a hybrid of an apprentice program and a textbook based distance learning program which covers all the scientific forensic foundations, plus gives you a headstart in starting your own business, too.
We have assembled 6 intense modules of lectures, tele-classes, textbooks, tests marketing knowledge, live lectures, live tutoring, and hands-on real case studies. It is truly a comprehensive program that turns your interest into a lucrative career helping people solve problems.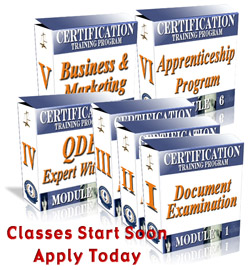 The results are simple to explain. During our 6 module program, you will learn how to spot even the most finely crafted forgery using the known samples and the questioned document. Plus, you will be able to give valuable advice to your client on the process and legal challenges he or she might face during his trial using this type of forensic evidence.
This scientific process will set you apart in the courtroom and as a consultant to attorneys and clients nationwide. What's more, in module 5, you learn how to market yourself as an expert to demand TOP DOLLAR for your skill. The program is comprehensive and you learn by solving real cases - taken directly from our professor's vaults.
What this program is not:
This is not just a book. (You will be assigned textbooks to read as part of the course. These textbooks are invaluable and many test are based on the knowledge within. But, the course is much more than what you can read in a book.)
This is not a CD course where you just listen at your liesure. (Yes, there are dozens of compelling lectures from the Doc Exam world's most brilliant minds that you can download and listen to over and over. But, this course is more than listening... you must do!)


This is not a simple course where you mail a few multiple choice tests to an unknown test grader and get a certificate in the mail. (Yes you have tests, yes they are graded, and yes you get a certificate... but your tests are interactive and some are verbal with your instructor. You can't slip through the cracks. )
This is not a get-rich-quick scheme where you are promised easy money. It is a school that teaches you a specific trade skill. You will have the ability and know-how to earn hundreds of dollars per hour with your new profession, and our staff will help to guide you toward your career goals. If you apply yourself and follow the business model, you will succeed.
Core Curriculum Certification Course Overview

Module I - Introduction to Document Examination.


12 Lessons / Tests
12 Case Studies

Module II - Basics Document Examination.


12 Lessons / Tests
12 Case Studies

Module III - Advanced Document Examination.

12 Lessons / Tests
12 Case Studies

Summer Break

Module IV - Expert Witness & Depositions.

12 Lessons / Tests
12 Case Studies

Module V - Business & Marketing

12 Lessons / Tests
12 Case Studies

Module VI - Proficiency Testing & Apprenticeship Program

10 Lessons / Final Exam
10 Case Studies

Detailed descriptions of these modules available
on this page (click to view.)

The above curriculum does not include the Career Track Professional Program,
which can be started anytime after Module 1 up until one year post-graduation.
There is an additional fee for the Career Track Program, but most students find it is the most
cost-effective option for launching their business quickly and effectively.

Classes are held weekly by phone or webcast featuring one of our esteemd faculty members or guest speakers. All "live" classes are recorded, so that you can listen later to a missed class. You can listen to the class via the Internet and make up the material on your own time, using our student only downloadable website options.
You will also examine real-life "questioned document" cases, make a determination on the authenticity, and submit your findings.
Plus, once you are sufficiently trained in the basics, you can begin the apprenticeship program, where you will handle an "active client case" and work side-by-side with a faculty mentor to solve cases. You will not only gain experience in solving "live cases" to build your resume, but you will also be paid a percentage of the revenue while you learn.
How much money can you earn?
Like any school or training facility, we cannot make any guarantees on the income you will earn after graduation. We know, however, that there is ample demand for professionals in this field. Prices for document examining range from a few hundred dollars, to over a thousand for an expert opinion.
Recent advertised positions for full-time county/city document examiners ranged from $66,000 to over $90,000 per year. However, independent examiners we have personal knowledge of are making anywhere between $5000- $23,000 a month in revenue from court fees, examination fees, and depositions.
Bob Baier, a graduate, is routinely paid $300-$400 per hour to examine and evaluate documents, and up to $1200 per day to appear in court as an expert witness.
Upon graduation, you will be an independent entrepreneur. Your annual income will depend on how many cases you examine. Our program also includes detailed marketing and business administration classes which will reveal easy-to-follow, successful models for marketing your skills, recruiting new clients, and managing your career.
What is an education worth?
A college degree from a private institution can cost upwards of $80,000 per year these days in the USA. However, students at many Liberal Arts colleges often have no marketable skills upon graduation. Bart graduated from Pepperdine University with a degree in Business Administration, but not really any marketable skills. No, they didn't teach him handwriting analysis at Pepperdine. He learned that from an apprentice / mentor relationship in the same time period.
Above is pictured Pepperdine University, where Bart Baggett graduated with a degree in Business. As much fun as college was, it didn't provide me a specific marketable skill to earn me $1000 a day... but look at the view!
When you graduate from our training program, you will have already worked (and been paid) as a professional Document Examiner. If you don't have 10 actual client case experience, you will NOT qualify to graduate!
I tell you this so you realize we are not offering you a textbook and a fill-in-the-blank home study test.
This is not a $999 home study course where you watch a box of videos and read a book. This is an intensive 18 month - 2 year program where you will walk away with a new skill that can bring income for the remainder of your life. Some document examiners work well into their golden years... so it is a skill you can always fall back on.
To help make the cost of the program manageable, some students accepted into our program will be offered a 2-year financing option. Remember, you probably will earn money through the apprenticeship program during your training, which can help to offset the cost of tuition.

To apply for the program through the Office of Admission, complete the required application forms, available for download on the following page...
Are you ready to get started?
Click here for the application and enrollment page.